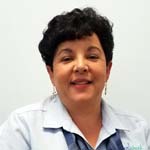 Welcome from Barbara Leon, Early Childhood School (ECS) Principal
On behalf of Advent Early Childhood School we welcome you. We are privileged to offer you and your child
an excellent Early Childhood program that honors God. Our Early Childhood School has been blessed to partner with parents of Boca Raton and the surrounding communities in the education of their children for over 50 years.
At ECS, we believe that every child is a gift from the Lord and we strive to provide quality education that meets the needs of the whole child. We seek to integrate Christ throughout all our subjects, keeping a spiritual and academic atmosphere that edifies and nurtures our students.
Our hope and prayer is to be a blessing to each student and their family and to bring glory to God in all that we do so that our students will learn to do the same.
Welcome to Advent, where Love is why we're here!
Learn more about our Early Childhood Programs: