Specials for Elementary & Middle School
Special classes are essential to building a well rounded, confident student. Our specials are included daily in our students curriculum with Foreign Language – Spanish, Physical Education, Music and Drama education, and Technology both in the classroom enhancement and a computer lab where students are trained on life skills that they need today and for their future.
These specials are not just "fluff" added to the students day, but they are bright spots in the students day and add to their personal growth and well being. Engagement from the student means the joy of being at school is increased and their academic success and personal health is stronger.
Physical Education / Athletics
Students need recess and physical education classes, so from Transitional Kindergarten thru the Eighth grade all students participate in physical education twice a week. The elementary students also have recess built into their daily schedules.
During the first half of our physical education class the students will complete a series of calisthenics to get them warmed up and increase their heart rate. While doing so we teach them important fundamentals of movement such as balance, flexibility, and coordination. For the remainder of the class we will learn and play a wide range of sports or games. These will include soccer, volleyball, basketball, football, capture the flag, dodgeball, and many more. These sports will not only be fun but teach them about teamwork, sportsmanship, and competition. The overall goal of the program is to increase our students' health by incorporating fun ways to exercise.
Team Sports
Advent students are encouraged to participate in team sports, where commitment, sportsmanship, fair play, and teamwork are emphasized. Students learn they can glorify God through healthy competition, winning with humility, and losing with grace. Interscholastic sports begin in the fourth grade. Advent's Middle School athletic teams have a long history of success and have reached and State and National levels.
Sports offered at Advent:
Fall Sports:
Junior Varsity & Varsity Soccer (co-ed)

Junior Varsity & Varsity Volleyball (girls)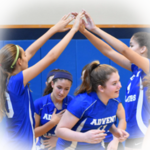 Winter Sports:
Junior Varsity & Varsity Basketball (boys & girls)

Cheerleading
Spring Sports:
Track (co-ed; graded 4-8)

Tennis (co-ed)

Golf (co-ed)

Varsity Softball (girls)

Varsity Baseball (boys)
The Junior Varsity level (fifth and sixth grades) is considered a learning level. Athletes will learn the rules and fundamentals of the game and be able to practice those skills. It is our goal to allow every child to play while maintaining a competitive spirit.
The Varsity level (primarily seventh & eighth grades) is a competitive level. At this level the athletes will learn the more advanced rules and strategies of the game. Some athletes will have more playing time than others based on skill and circumstances.
Middle School Athletes are encouraged to participate in FCA (Fellowship of Christian Athletes) to further develop leadership potential and sportsmanship.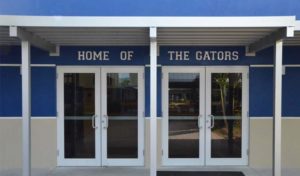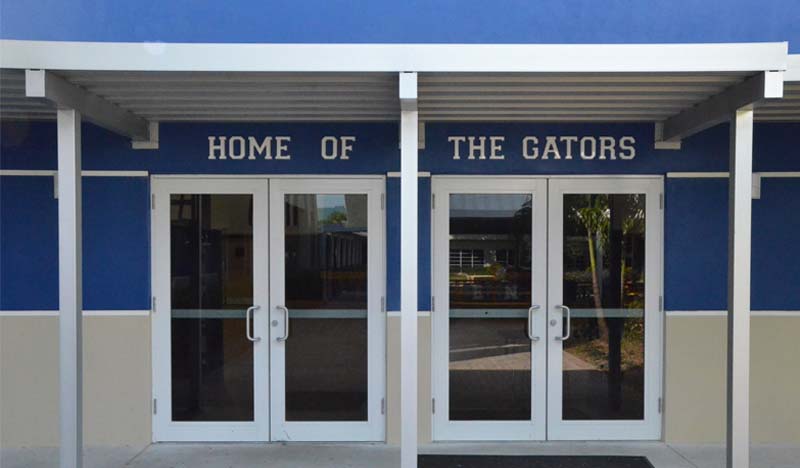 Coach Cory Harbinson –
Athletic Director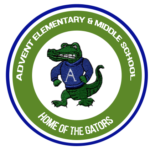 Christmas Program
Elementary School
Overview of Fine Arts Curriculum at Advent
Students at Advent are taught that we all have varying measures of musical and artistic abilities and that all are gifts from God. Our students are encouraged to explore their individual talents, expand their skills, and grow an appreciation of the fine arts. Some highlights of the year include the annual Art Show, holiday performances around town by the choir, Christmas and Easter programs and the Spring Drama show.
Fine Art Classes include:
Music Class for grades K-6

Middle School Choir 5-8

Art Classes for grades K-6

Drama Club 5-8

Band 4-8

Art Club 6-8

Foreign Language – Spanish

At Advent, we believe strong communication skills are vital to future success. Our students are introduced to the Spanish language and culture at all grade levels – culminating with the option of a Spanish I Honors credit at the successful completion of eighth grade.
In the elementary grades, your child will be provided a learning environment that blends engaging hands-on activities with vocabulary development and practice in pronunciation.
Your child will also be introduced to grammar rules, reading comprehension, listening exercises, and project based learning that includes familiarization with Spanish cultures and customs.
Middle school students continue building vocabulary and communication skills through four fundamental building blocks; listening, comprehension, speaking, reading and writing.
Your graduate will be well prepared for Spanish II upon entering high school.

Technology at Advent
The use of technology is highly valued at Advent School, therefore it is embedded in all areas of the curriculum and at all grade levels.
In primary grades (TK-2), technology is used to reinforce concepts being introduced and mastered in the reading and math curriculum. Students are provided individual instruction at their level. Basic coding concepts are introduced starting in the second semester of Kindergarten.
In the intermediate grades (3-5), skills such as keyboarding and responsible internet use are emphasized along with mastering programs common in publishing projects such as Microsoft Word, Power Point, Excel, and more advanced coding skills are introduced.
In middle school, technology becomes more of a tool for the student to use to produce projects, research papers and more. The cross curricular approach allows students to use the latest technology programs in a way that is meaningful to them in their day to day academic life. Students utilize Google Docs for education and Chromebooks in their daily work. In addition, they have access to a 3D Printer and virtual reality programs.
Technology is not used for reward or to replace social interaction, but as an educational tool.
Advent Robotics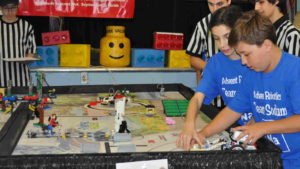 The Advent Robotics team is comprised of students from Grades 5 through 8. They participate in the Robot Drone League at Florida Atlantic University (FAU) Tech Garage. The team works together to program drones and to design, build, program, and test robots. Students design a robot to meet the needs of the mission of the competition which changes every year.
The programming for the robot and the drone are done using the computer language Python. The team members also learn to use soldering equipment, 3-D printers, and a laser cutter. The students learn to make electrical plugs and cables, and most importantly they learn programming concepts, logic, and teamwork. These are skills that they can use in the real world; the experience and knowledge the students get from being a part of the robotics team will help them in high school, college, and beyond.
The league competition includes 3 qualifying rounds and the playoffs. The team worked hard last season and came in 2nd place overall.
Schedule your Free Educational Success Consultation & Tour
Vicki Randle – Elementary & Middle School Admissions Coordinator