Paulo Bonventre, Advent Class of 2009, attended Boca High where he participated in the ROTC program.
He is a graduate of Florida State University with a Bachelor of Arts in East Asian Languages and Cultures (Cum Laude) and a Bachelors of Science in Asian studies.
He is currently an Infantry Officer and holds a Ranger tab in the United States Army. He is stationed at the 101st Airborne Division in Fort Campbell, Kentucky.
Paulo Bonventre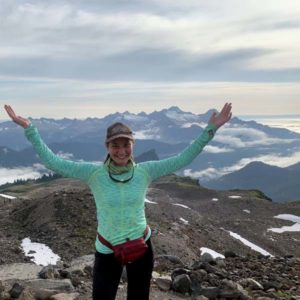 Deena Nunes
Deena Nunes, Advent Class of 2003, graduated from Boca Raton Community HS in 2007 where Deena was Voted "Most Polite" by her senior class! She went on to graduate from the University of South Florida with her Bachelor's in Exercise Science (2011) and her Master's in Exercise Science with a concentration in Health and Wellness (2013). With a passion for baton twirling, she performed with the Boca High Band and also the University of South Florida's Herd of Thunder Marching Band as a Colorguard and Winterguard performer.
Deena is currently a resident of Boca Raton and is employed as the Director of Training at Your Best Fit, Inc. In addition she is a baton twirling coach with The Anchorettes. She is living out her faith through:
Freedom Challenge – climbing mountains to fight human trafficking (Jackson Hole, WY in 2016, Estes Park, CO in 2017, Machu Picchu in 2017, Mount Baker, WA in 2019, More adventures to come!)

Advent Church (actively involved in events, reading the prayers, The Garden – Women's Gathering, etc.)

Gold Coast Via de Cristo (A community of Christian leaders spreading Jesus's love in all they do.)
"Once a Gator always a Gator!"
Erik Dellenback, Advent Class of 1992, attended Advent from Prekindergarten through Eighth Grade and later graduated from the University of Florida. He is a businessman, entrepreneur and producer; best known for the movie Run the Race (2017). Erik serves as the President / Executive Director of the Tim Tebow Foundation.
Advent School's 50th Anniversary Celebration Dinner 2019

Erik Dellenback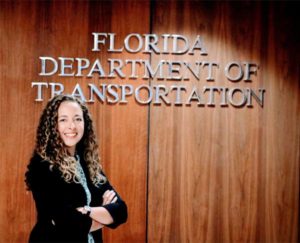 Erica Christiansen
Erica Christiansen, Advent Class of 2009, went on to attend Boca Raton Community High School (2013) and University of Florida (2016). At UF, she received her Bachelors of Science in Wildlife Ecology and Conservation, graduated summa cum laude, was a College of Agricultural and Life Sciences Honors Scholar, and completed UF's Honors Program. While in college she served as president of the UF Student Chapter of The Wildlife Society, worked as a resident assistant for on-campus students, and volunteered for a number of wildlife research projects, including her thesis on bobcat occupancy in Paynes Prairie Preserve State Park in Gainesville.
Erica went on to work for the Florida Fish and Wildlife Conservation Commission and the Florida Department of Transportation post-graduation. She recently moved to Madison, Wisconsin where she is now a biologist for Stantec Consulting Services, Inc. Erica is helping a number of clients from the transportation and energy sectors develop strategies to enhance rights-of-way as habitat for important pollinators, like the monarch butterfly.
Alyssa Varney, Advent Class of 2011, attended Boca Community High School where she graduated in the top 20. At Boca High she played Varsity Softball for four years, was a member of the National Honor Society, Vice President of TLC Club, President and founder of Scuba Club, AP Scholar with distinction and AICE diploma recipient.
After high school she attended the University of Florida where she was a member of the Gator Scuba Club and scorekeeper for Rec Sports for 2 years. She was a recipient of the Advent Lutheran Church scholarship and the Palm Beach Gator Club Scholarship.
After completing an internship with Callaway Marine Technologies, she graduated with a B.S. in Marine Science.
She is currently in the process of applying to FAU's graduate school to pursue a Masters degree in marine science with a focus on coral.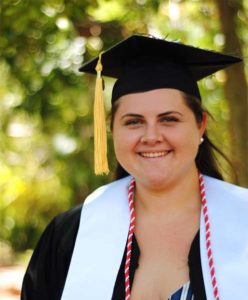 Alyssa Varney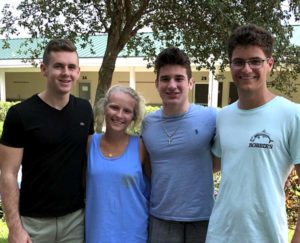 Taylor Oberlander,
Amanda Freeman
Bandon Runner,
Mathew Christie
At Advent, life-long friendships are formed. These friends from the Class of 2014 stopped by to say hello to their former teachers.
(Left to Right) Taylor Oberlander is preparing to take his EMS/Paramedic and Firefighter exams.
Amanda Freeman is currently attending Rollins College where she is studying Political Science.
Brandon Runner and Matthew Christie are roommates at the University of Miami where they are studying Mechanical Engineering and Environmental Engineering respectively.
Message from Kristina Buchholz, Advent Class of 2003.
It makes me proud to share the blessed journey I had as an Advent Gator and the impact this school, staff and church family has had on my life. I love how this staff is so transparent about their faith and shares it with their students whether we realize it or not. They instill in us the courage to love one another and our neighbor. They give us the courage to let our wings soar high trusting that God's in control. They instill in us the love and word of Jesus that will take us through our life. They encourage and believe in us to be the best we can be. Being a Gator has blessed me with an extended family that inspires me to do the impossible.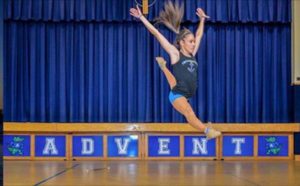 Kristina Buchholz
– I unfortunately had to deal with significant health issues all my life.
– Who never left mine and my family's side? It was Jesus and our Advent family encouraging us, keeping our faith strong, lifting us up in prayer, and after being hospitalized for a few weeks coming back to school to the greatest welcome home someone could ask for!
– I have a genetic condition called 22q11.2 deletion syndrome.I have been able to travel the US sharing my testimony to hundreds of families sharing with them the same hope and faith that my Advent family has shared with me.
– I became the Awareness Ambassador for our 22q foundation.
– I love serving God and serving God's people, I am very involved in a Via de Cristo community.
Thank you God for the blessing Advent has been to my life, it's a place that will forever hold a special place in my heart and I am so grateful to have had the opportunity to grow up in this inspiring and uplifting environment.

Richard (Sammy) Franklin
Class of 2011
Sammy attended Saint Andrews High School before moving out west to attend the University of California, Santa Cruz.
He recently graduated UC Santa Cruz with a major in Computer Science and a minor in Electrical Engineering. While in school he developed several apps, one of which is available now in the iOS app store – Limelight Collaborative DJ.
Sammy is currently planning to work in the software development or robotics field and is exploring starting up his own software development company.
Caitlyn attended Boca Community High School where she was involved in basketball, track & field, National Honor Society, Fellowship of Christian Athletes, Key Club, and Student Government. She is an AICE diploma recipient and graduated in the top 15% of her class.
Caitlyn stayed connected with Advent School as a Counselor at Advent Lutheran Summer Camp 2018-2019 and Aftercare Counselor for the 2018-2019 school year.
Currently, Caitlyn is a freshman studying Nursing (BSN to RN track) at The University of North Florida in Jacksonville. She aspires to be an RN and specialize in Labor and Delivery and NICU.

Caitlyn Varney

Ali North
Ali North, Advent Class of 2007, attended Spanish River High School and was an active member of their cross country and track teams as well as student government.
Ali went on to attend the University of Florida where she joined Chi Omega Sorority and graduated with a degree in Health Sciences. She participated in four years of Dance Marathon which benefits Children's Miracle Network. She also volunteered with TOPS Soccer and Best buddies. She went on her first mission trip with Food for the Poor to Guatemala while in college. She also enjoyed backpacking through Europe and traveling to Thailand.
Ali worked as a nurse assistant at Delray Medical Center for two years and then
moved to Nashville, Tennessee in May 2017 to begin a graduate program for Physician Assistant at Trevecca Nazarene University.
During that time she was able to travel to Haiti for spring break on a medical mission trip with her classmates and see God work in powerful ways there. She also did a clinical rotation in Zumba, Zambia in February 2019 where she lived in Africa for 5.5 weeks and worked at Zimba Mission Hospital. It was an incredible learning experience dealing with the challenge of international medicine in a third world country.
She graduated from Physician Assistant school in August 2019 and is currently working at a family medicine clinic in the greater Nashville area as a certified Physician Assistant.