Transitional Kindergarten

Give your child the gift of time!
One size does not fit all when it comes to your child's education. Just as children start walking and talking at different ages, they also develop the foundational skills needed to be academically successful at different rates. With Advent's new Transitional Kindergarten, your child will have the time he or she needs to become confident and capable as they move forward with their education – avoiding the frustration, resistance, and self-esteem issues that come with being pushed too early. The Transitional Kindergarten is a good option for students that would benefit from more time to develop the following skills:
Sustained focus

Group dynamics

Fine motor skills

Following multiple step directions

Independent task completion

Social skills

Organizational tasks

Academic readiness
The class size is limited to 16 students and is led by certified and experienced staff.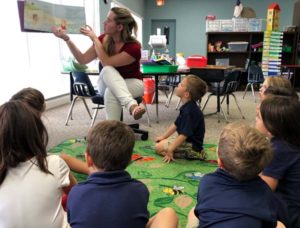 Mastery of these skills will set them up for future success and a lifetime of eager learning.
The Transitional Kindergarten participates fully in the Elementary school-wide activities such as chapel, Spirit week, field days, community outreach, pep rallies, holiday activities, and specialty classes (art, music, P.E., library, and Spanish). Students must be 5 years old as of Sept 1st to participate in the Transitional Kindergarten. Upon completion, they will move to the Kindergarten class the following year.
To learn more about this exciting program and to explore if it is the perfect gift for your child, call and schedule an Educational Success Consultation with our Principal.
Schedule your Free Educational Success Consultation & Tour
Vicki Randle – Elementary & Middle School Admissions Coordinator