Technology at Advent
The use of technology is highly valued at Advent School, therefore it is embedded in all areas of the curriculum and at all grade levels.
In primary grades (TK-2), technology is used to reinforce concepts being introduced and mastered in the reading and math curriculum. Students are provided individual instruction at their level. Basic coding concepts are introduced starting in the second semester of Kindergarten.
In the intermediate grades (3-5), skills such as keyboarding and responsible internet use are emphasized along with mastering programs common in publishing projects such as Microsoft Word, Power Point, Excel, and more advanced coding skills are introduced.
In middle school, technology becomes more of a tool for the student to use to produce projects, research papers and more. The cross curricular approach allows students to use the latest technology programs in a way that is meaningful to them in their day to day academic life. Students utilize Google Docs for education and Chromebooks in their daily work. In addition, they have access to a 3D Printer and virtual reality programs.
Technology is not used for reward or to replace social interaction, but as an educational tool.
Advent Robotics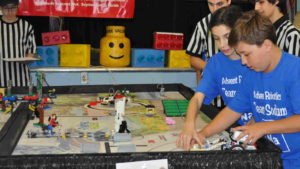 The Advent Robotics team is comprised of students from Grades 5 through 8. They participate in the Robot Drone League at Florida Atlantic University (FAU) Tech Garage. The team works together to program drones and to design, build, program, and test robots. Students design a robot to meet the needs of the mission of the competition which changes every year.
The programming for the robot and the drone are done using the computer language Python. The team members also learn to use soldering equipment, 3-D printers, and a laser cutter. The students learn to make electrical plugs and cables, and most importantly they learn programming concepts, logic, and teamwork. These are skills that they can use in the real world; the experience and knowledge the students get from being a part of the robotics team will help them in high school, college, and beyond.
The league competition includes 3 qualifying rounds and the playoffs. The team worked hard last season and came in 2nd place overall.
Schedule your Free Educational Success Consultation & Tour
Vicki Randle – Elementary & Middle School Admissions Coordinator